Orthodontic Treatment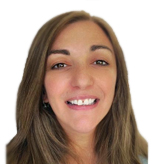 Dr Christina Evaghoras
BDS (Lond), MFDS RCS (Eng), MSc. (Orthodontics), MOrth RCS (Eng)

Dr Christina Evaghoras was educated locally before studying dentistry at Guy's Hospital. Christina qualified as a dentist in 1997. In the year that followed she worked at Guy's gaining further experience in maxillofacial surgery, children's dentistry and oral Medicine. A year in general practice was then followed by further experience in surgery and orthodontics.

Christina's passion for orthodontics earned her a place on the specialist training course at Guy's Hospital. She completed her Masters in Orthodontics from the University of London in 2003, and in 2004 gained the Membership in Orthodontics from the Royal College of Surgeons of England. Since then Christina has worked in specialist practice, providing orthodontic care to both children and adults. A number of years working with children with special needs and anxiety in a dedicated clinic have further enhanced her skills.

Christina aims to provide the best results for her patients, whether their problems are simple or complex. Adults and children alike are treated with up to date, evidence based orthodontics, including "invisible" or ceramic braces when appropriate.
We can offer expert treatment and advice to adults and children, on a private only basis. The services range from simple interceptive procedures through to multidisciplinary care. You can refer any patient with either a developing or full malocclusion for advice and treatment.


Crowding
Crossbites
Supernumerary teeth
Traumatised incisors
Spacing
Abnormal radiographic findings
When to make an orthodontic referral
Adult referrals can be made at any time you consider appropriate.
Most younger orthodontic patients will benefit from referral at or just before the completion of their permanent dentition and before growth has ceased This will usually be from ages 10 in girls and 11 in boys.
Early Referrals
Referrals before the age of 10 are appropriate if :
A tooth is in crossbite with a displacement.
There are congenitally absent teeth
There is a significant class II dental base relationship with an Overjet greater than 7mm
There is a significant class III dental base relationship with incisors in anterior crossbite.
There are impacted teeth
There is a craniofacial syndrome such as cleft lip and palate or significant facial asymmetry.
Advice on early extraction of permanent teeth is required especially if the first permanent molars have a poor long term prognosis.
There are other exceptional circumstances.
Orthodontic Price List
Extensive Consultation
Inc. models, photographs and x-rays( if appropriate)
£95
Conventional fixed braces
(single arch)
£1800 - £3000
(dual arch)
£3000 - £4700
Invisible Removable Braces
Invisalign®
£1800 - £5500
Self-Ligating Fixed Braces
£1200 - £1900 per arch
Smartclip™ Metal, Damon,  ClaritySL™ Ceramic
Lingual Fixed Braces
WIN
£2500 - £3650 per arch
For how to refer
click here
.